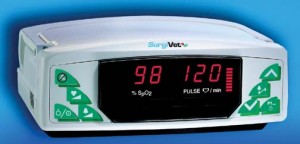 Product Category:

Monitoring – Pulse Oximetry

Brand: Surgivet 

Description: - Advanced Digital SAC oximetry for demanding veterinary applications.
- Good for low perfusion and/or high motion situations.
- Can be used in a wide variety of applications including: surgery and prep areas as well as in the field. – Provides SpO2 and pulse rate monitoring on patients from exotics to horses.
- Includes 2 pulse oximeter sensors.
- Quantitative pulse bar strength.
- Adjustable, visible and audible alarm limits.
- 99 patient memory.
- Rechargeable battery (4.5 hrs of continuous use).
- Works on wide variety of animals.
- Extremely portable.