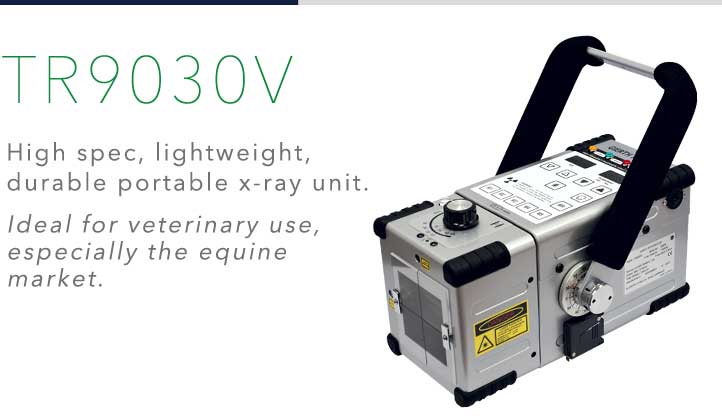 Product Category: Diagnostics Imaging – X-Ray
Brand: MIKASA
Description: The TR9030V is the high spec version of the HF8020. The maximum 90kV facilitates radiography of most equine body parts. The highly durable protective casing and low input voltage operation are unique features of this model. The unit has 5 memory stations for storing x-ray exposure techniques. It is compatible with all major DR digital systems. A dual laser pointer in the collimator centers to align your SID. The compact size makes it easy to transport and it is suitable for the equine and small animal markets.

Carrying case
A hard carrying case is available for safe and easy transportation.
Size:W440mm×D295mm×H290mm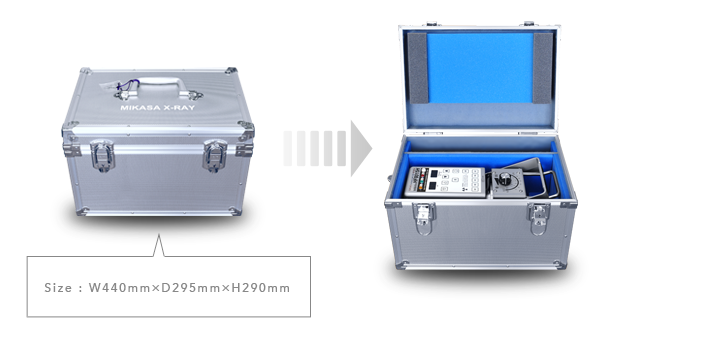 Specifications:
Model
TR9030V portable x-ray unit
Max.output power
1.8kW
Line voltage
AC, single phase, 230V, 50/60Hz
Focal spot
0.8mm × 0.8mm
kV range
40kV-90kV (2kV step)
mA range
30mA(0.02-0.1sec),18mA(0.11-2.0sec)@40-60kV

25mA(0.02-0.1sec),15mA(0.11-2.0sec)@62-70kV

20mA(0.02-0.1sec),12mA(0.11-2.0sec)@72-80kV

15mA(0.02-0.1sec),9mA(0.11-2.0sec)@82-90kV

Timer
0.02-2.00sec
Memory storage
5 presets
Laser pointer
Dual laser
Size・Weight
L312×W188×H157mm 6.4kg
Accessories
Power cord/Hand-held exposure switch and cord
Stand:
MS-Ⅲ for TRB9020H/V,HF8015H,HF8020V
The MS-Ⅲ is a mobile x-ray stand that is easy to dismantle for maximum portability.
This is a lightweight and compact stand. A gas spring balance system facilitates easy and smooth vertical movement. It is easy to assemble and store. A carrying case is available for easy transportation.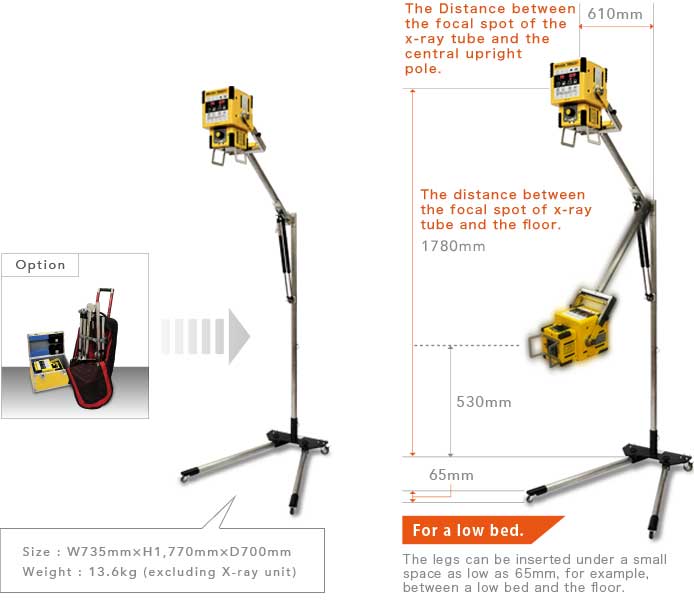 Carrying cases for MS-Ⅲ
A choice of soft or hard carrying cases are available. These cases provide safe, compact storage of the disassembled parts of MS-Ⅲ x-ray stand enables easy transportation. They are both mounted on casters.