Product Category:

Imaging-Ultrasound
Brand: Esaote
Description: The MyLab™Gamma and the MyLab™Six are based on the same technology platform. Esaote offers the best solution for any situation; the MyLab™Gamma as a lightweight portable for mobile use, or the MyLab™Six for more stationary use. Both systems can cover all examination needs in your practice; any species and every application, from small to large dogs, cats, exotics to equine and farm animals. From abdominal imaging, reproduction, musculoskeletal to cardiology and advanced cardiology.
MyLab Gamma Mobile

Features:

2 transducer connectors
13.3" 90° rotatable widescreen monitor
Anti-theft security lock
Long lasting / fast charging battery
Weight: 7.3 kg (including battery)
Compact trolley with 2 extra transducer connectors
Troller for mobile services
15 seconds battery based start-up time

Office MyLab Six

Features:

3 transducer connectors
19" rotatable widescreen monitor
Transducer cable organiser
Storage shelf
Four 360° rotatable wheels
Height adjustable rotatable keyboard
Excellent image quality
MyLab™Gamma as well as MyLab™Six provide impressive image quality in a wide range of applications. Besides B-Mode, M-Mode and Doppler-Imaging, the systems offer multiple advanced technologies to meet every clinical need. The MyLab™Gamma and MyLab™Six cover all possible small animals, equine, exotics and farm animals applications. Specific transducers are available for reproduction scanning, tendons and ligaments, cardiac and for general imaging. The unique libraries, supporting the equine reproduction and tendon scanning confirm Esaote's commitment and leadership.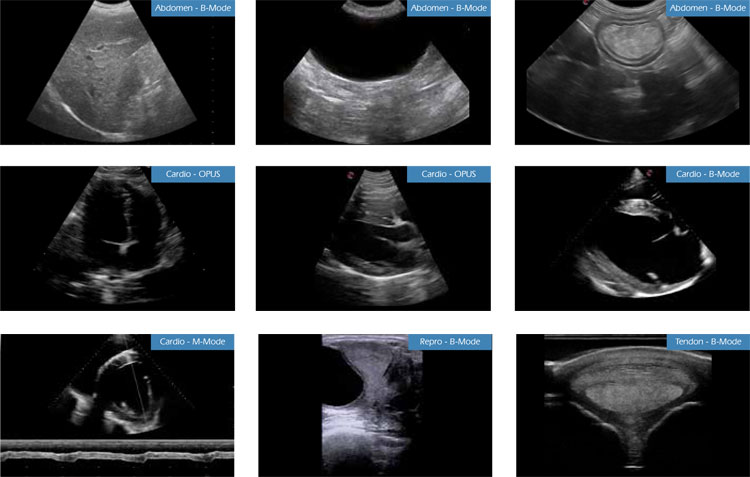 OPUS – One Probe Ultrasound Solution

SC3123 Micro Convex Probe: this unique micro convex transducer has a frequency range from 9-4 MHz and a scan-angle up to 93° for high resolution and high penetration to cover all applications in daily practice.
Click here to view MyLab™Gamma Technical Specifications: MyLab™GAMMA
Click here to view MyLab™Six Technical Specifications: MyLab™SIX
Click here to view Brochure: MyLab™Gamma & MyLab™Six Brochure