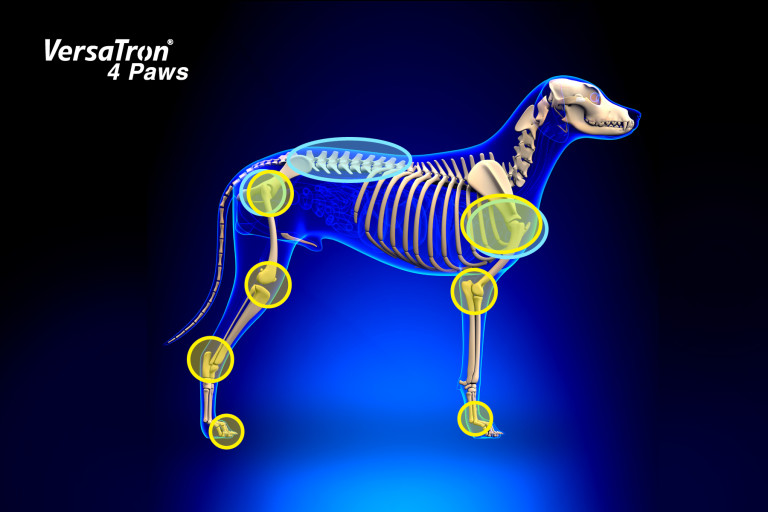 Product Category:
Shockwave Therapy – Versatron
Brand: Pulse Veterinary Technologies, LLC
Description:
The VersaTron 4 Paws high-energy, focused sound wave therapy, sometimes referred to as "shock wave therapy", offers a non-invasive treatment option for dogs and cats. The sound waves, also called pulses or shock waves, travel through soft tissue at customized depths reaching a specific treatment area and trigger the body's own repair system. The energy stimulates the regeneration process at a cellular level, releasing proteins that accelerate healing.
NO COMPARISON
In contrast with ultrasound or lasers, VersaTron 4 Paws high-energy, focused sound waves result in a higher energy output and deeper penetration. The results of this revolutionary therapy have been clinically proven to speed healing time, improve mobility, and relieve pain with only a few treatments.
MULTIPLE TREATMENT OPTIONS
VersaTron 4 Paws can be used as an alternative to surgery or as part of a rehabilitation program. It has been proven effective in the treatment of over 20 small animal indications. With customizable trode sizes and energy settings, VersaTron 4Paws allows for focused penetration depths to heal bone, ligaments, or soft tissue.
NON-INVASIVE
VersaTron 4 Paws sound wave technology is non-invasive, only requiring short-acting reversible sedation. Smaller animals are able to receive treatment with minimal recovery time and a shorter healing period.
RETURN ON INVESTMENT
VersaTron 4 Paws is a superior technology providing years of reliable service and support. Only a handful of treatments per month cover the monthly cost of the device. Ongoing growth potential is backed by our investment of time and resources for your success.
UNSURPASSED SUPPORT
PulseVet is committed to providing the very best service and ongoing support for its veterinary partners. Our marketing department's global outreach campaigns inform pet owners of the benefits of the technology through education campaigns and client information forums. PulseVet also provides training for vets and staff on treatment applications and revenue growth opportunities.
For more research data and clinical studies on PulseVet's VersaTron 4 Paws, click here.
For more product information, click here.