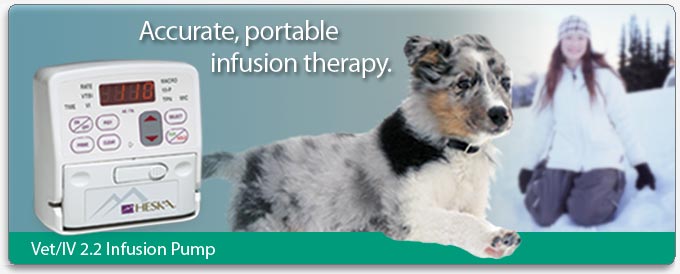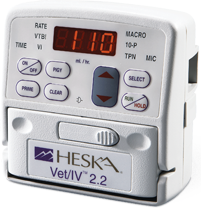 Product Category:

IV Pumps
Brand: Heska
Description:
Find out why thousands of customers love HESKA® VET/IV 2.2 Infusion Pump. Weighing only 2.6 pounds, the Vet/IV Pump supports three pressure settings and can be programmed for very small to very large volumes with rate and time or rate and volume to be infused.
EASY TO USE
Lightweight and Portable: Weighs only 2.6 pounds and fits in the palm of your hand.
Convenient: Hang from a treatment cage or IV pole.
Calibration Options: Fluid line set calibration available for:
Abbott Series A

Abbott Series B

Baxter ACT 5435s

Hospira List No 11545-58

Henry Schein UniverSet
Intuitive Operation: Set all functions with just six buttons.
Technology:
BEST-IN-CLASS TECHNOLOGY
Micro and Macro Flow Rate: Flow rate ranges from 0.1–999 ml/hour.
Multi-purpose: Use for fluid replacement or to administer total parenteral nutrition (TPN), even in very small doses.
Multiple Programming Options: Program up to 10 drip rates and times. Program rate and time or rate and volume.
Multiple Pressure Settings: Select from 3 pressure settings for different patient conditions.
Piggyback capable: Option to control the flow of fluid from two fluid bags.
Specifications:
Specifications
Description
Pumps
Intravenous fluid, parenteral nutrition
Pumping Mechanism
Linear peristaltic movement
Flow Rate
Micro—0.1 to 99.9 ml/hr

Macro—1 to 999 ml/hr

Total Infusible Volume
Micro—0.1 to 2,500 ml

Macro—1 to 9,999 ml

Accuracy
± 5%
KVO Rate
0.1 to 5 ml/hr, depending on infusion rate
Air Sensor
Ultrasonic
Pressure Settings
Adjustable (low, normal, high)
Power Supply
110–220 VAC, 50/60 Hz
Battery
Nickel-Cadmium 7.2 V, 0.9 Ah
Battery Operation at 120 ml/hr
Up to 8 hours
Battery Charging
Automatic when connected to an AC power source (12 hours)
Alarms

Low Battery
End of Program
End Battery
Lock in Settings
Air in Line
Bad System
High Pressure
Bad Set (Downstream Occlusion)
Fill Set
Door Open
Replace Set

Dimensions (H x W x D)
5.4 in. x 5.4 in. x 2.8 in.
Housing
ABS
Weight
2.6 lbs.