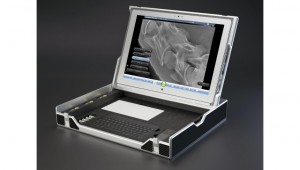 Product Category:

Digital Imaging
Brand: VetZ
The Vet Z XDR5 combines flat panel detector technology high-performance software for veterinary digital image processing and is suitable for equine DR work; both mobile and practice based work.
The software is easy to navigate; select patients, specify areas to be radiographed and transmit to Canon's image processing software. It has built-in acquisition packages allowing preset breeding or pre purchase examinations making this possible in a matter of seconds.  The desired views are displayed on the touch screen and you are able to work through them automatically by touch.
The XDR5 is lightweight at only 9kg including detector with protective case and carrying handle, 20" multi-touch high-performance tablet, keyboard and spare battery packaged in aluminium and carbon fibre.
Specifications:
Applications
Equine
CR or DR Technology
DR
Time to image display
10 seconds
Workload
High
Use with your existing generator
Yes
Cassette/ plate imaging area
14" x 17"

12" x 14"

DR plate weight
2.3kg /  3.3kg
Cassette / plate construction
Flat panel detector made of amorphous silicon (a-Si) with scintillator
Fit into a bucky tray
No
Suitability for horizontal beam work
Yes
Processor fits on standard kitchen worktop
Yes
Portable unit
Yes
Weight (processor)
9kg
Processor unit dimensions (w x d x h)
Case: 510 x 495 x 80 mm (W x H x D)
Greyscale resolution – Acquisition
16/14 bit
Greyscale resolution – Display
Monitors available
20"
Burn to CD & USB
Yes
DICOM compatible
Yes
Compatible with BCF PACS
Yes
Operating conditions
5 to 35 degrees C, humidity (non-condensing) 10-80%
Storage conditions
Minus 20 to +70 degrees C, humidity (non-condensing) 10-90%
Accessories
Foot block/ tunnels, can be used with Podoblocks
Click here to view Brochure: Vetz XDR5