Product Category:

Imaging-Ultrasound
Brand: Esaote
Description: The new MyLab™Delta Ultrasound System is a robust, portable for mobile use offering the best solution for any situation, in any environment. The system – together with MyLab™Six for more stationary use – can cover all examination needs in your practice; any species and every application, from small to large dogs, cats, and exotic animals to equine and farm animals. From abdominal, reproductive, and musculoskeletal to cardiology imaging.
Features:
ROBUST AND SPLASH PROOF!
Easy to clean
2 transducer connectors on board
13.3" LCD wide screen monitor
Long lasting / fast charging battery
15 seconds battery-based start-up time
Height adjustable robust trolley with 4 large swiveling wheels
Trolley for mobile use
Patient ID/Owner Name
The patient demographic screen is dedicated to the veterinary environment with fields for the animal's name as well as species and breed.
Application Selection
The veterinary application software makes it easy to choose from a list of applications before starting the examination. After selecting the application, the system automatically displays the presets corresponding to the chosen purpose. A dedicated application icon is shown on the screen, confirming that the correct settings are selected.
Measurements and Reports
Confirming Esaote's dedication to the veterinary world, complete veterinary measurement packages, including abdomen, cardiology and reproductive gestational calculations provide easy exam documentation.
Body Marks
Using a body mark to show the exact position where the scan has been done is useful. But being able to indicate this with a body mark that actually resembles the scanned species is even better. During or after an exam or measurement it is very easy to "mark" the exact area of examination using the dedicated veterinary body marks.
Image Quality
You can rely on excellent image quality to aid fast and accurate diagnosis, with any application or probe.
Excellent image quality
MyLab™Delta (as well as MyLab™Six) provides impressive image quality in a wide range of applications. Besides B-Mode, M-Mode and Doppler-Imaging, the system offers multiple advanced technologies to meet every clinical need. The MyLab™Delta covers equine and farm animal applications. Specific transducers are available for reproductive scanning, tendons and ligaments, cardiac and general imaging. The unique libraries supporting equine reproductive and tendon scanning confirm Esaote's commitment and leadership in the field.
Small Animals, Equine & Farm Animals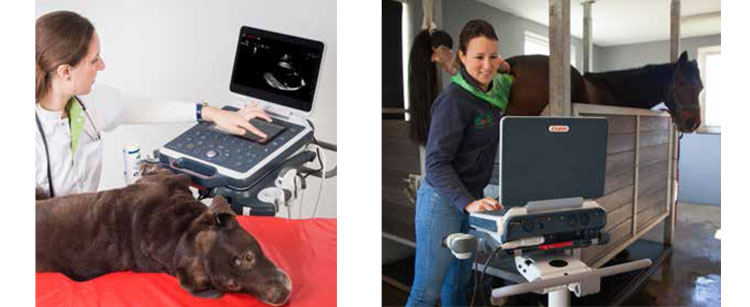 Small Animals – Clinical images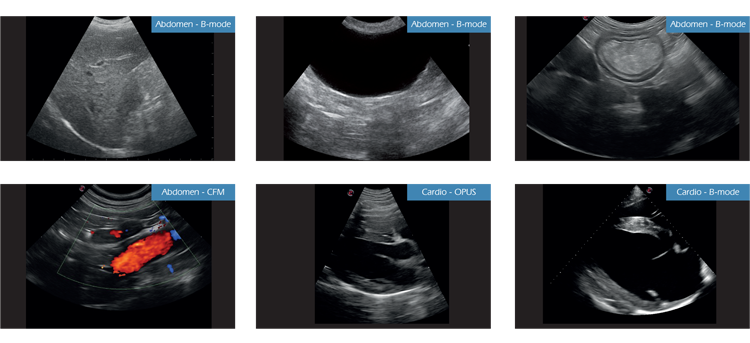 Equine & Farm Animals – Clinical images

OPUS – One Probe Ultrasound Solution

SC3123 Micro Convex Probe: This unique micro-convex transducer is designed for abdominal as well as basic heart ultrasounds. Its wide frequency range means it can be used for cats, dogs of different sizes, and exotic animals. This makes SC3123 the truly a 'One Probe Ultrasound Solution' in daily veterinary practice.

Veterinary Endorectal Transducer (SV3513)

The famous Esaote Veterinary Endorectal Transducer has a proven reputation based on its image quality, reliability, ergonomic design, and durability. This transducer is widely used for reproductive and MSK purposes in daily veterinary practice.

Libraries

MyLibrary is an innovative application and dedicated tool integrated in both systems for users' reference, which includes anatomical atlases and "How To" reference images, so users can instantly and easily have access to a fast, thorough, and application specific educational environment.

Click here to view MyLab™Delta Technical Specifications: MyLab™Delta