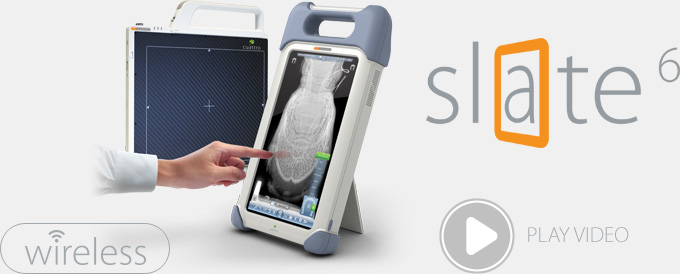 Product Category:

Digital Imaging
Brand: Cuattro
Features:
The Fastest
Slate 6 is the fastest wireless imager the industry has ever seen. It's not even close. Press "On", and in 20 seconds, begin your exam. With InstaView™, expose your image, and in 1.9 seconds, see your image. With RapidShotX™, expose every 5.8 seconds until you're done. Now that's fast.
Ultra-High-Definition 4K Multi-Touch
Slate 6 makes patient-side diagnosis a best practice with a stunning 16" 4K Ultra-HD 16:9 IGZO WQHD display that serves up 10% more resolution than Apple's vaunted Retina™ displays and most medical radiology monitors. With an all-multi-touch capability, image acquisition, and 4K Ultra-HD, review is performed using familiar gestures, like pinch, swipe, touch, and rotate.
OmniPlane™ Signal Lock
Cuattro teamed up with the world's leading wireless experts to bring OmniPlane™ Signal Lock technology to Slate 6. With Omniplane Signal Lock, x-ray detector binding is accomplished using a separate and dedicated WiFi module to activate multiple Omniplane 3D Antenna Arrays embedded into the Slate 6 console handle to sense, initiate, bind, and lock redundant and secure data paths to and from the all-new 2016 Slate 6 (10"x12") x-ray detector. By placing Omniplane 3D Antenna Arrays in the handle, signals are unobstructed in all planes. A separate internal WiFi networking module connects Slate 6 to outside networks for dedicated connections to the cloud, local networks, and wireless devices.
Automatic Exposure Detection (AED)
With Automatic Exposure Detection, simply make an exposure with any generator of your choice and enjoy a perfect, auto adjusted image of the projection in 1.9 seconds. No generator synchronizations are needed.
Anytime, Anywhere Review
Up to 1TB (terabyte) of dedicated exam memory internally stores up to 79,000 images for side-by-side review. And for sharing and unlimited archival, you and those you authorize may use Cuattro's secure, medical grade Cloudbank™ to upload and share exams and reports for anytime, anywhere review on virtually any internet connected device.
Specification:
Weight and Dimensions (W x H x D)
2.9kgs (6.39lbs.)
276mm (10.87") x 508mm (20.00") x 50mm (1.97")
Computer
i5-4200 processor 4GB RAM 1.6GHz Dual Core
Display
Ultra-HD 4K IGZO LCD – 235ppi at 3200×1800 native
Storage
1TB SSD drive (79,000 images + OS)
Battery Life
2.5-3.0 hours acquisition use – 100 min charge time
System Performance
20 second boot time – ready from power up
Image Acquisition Time:

Image display from Exposure: 1.9 secs
Image Cycle Time: (between consecutive shots)

5.8 secs (2016 and later Detectors)
10.1 secs (2015 Detectors)
Click here to view Brochure: Slate 6™ Digital Radiography